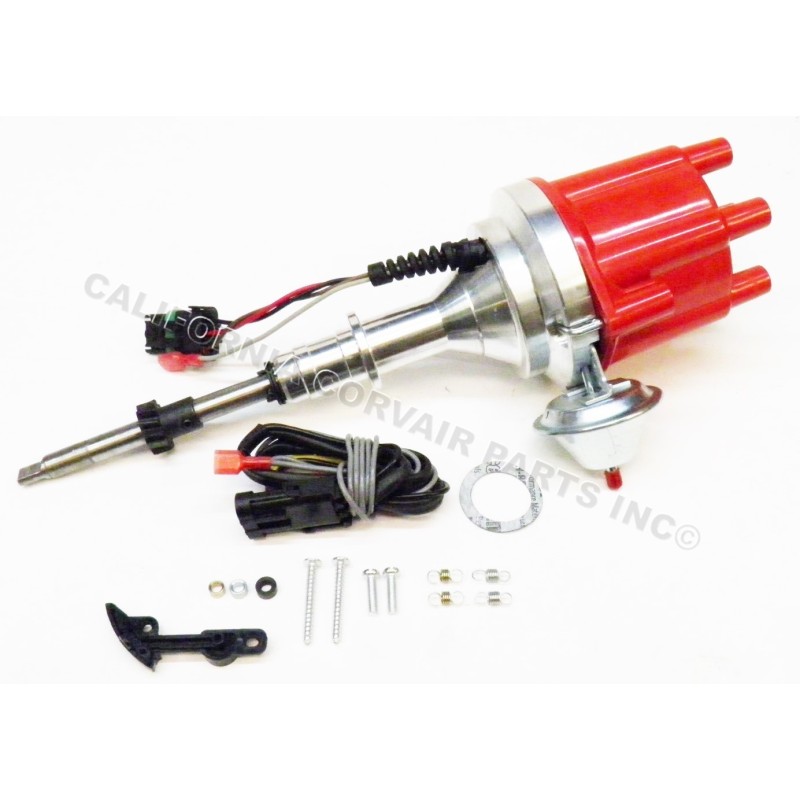 NEW ELECTRONIC DISTRIBUTOR - RED
New electronic distributor with red cap
for 80-140 HP Corvair engines.
Uses stock type spark plug wires.
Silicone spark plug wires recommended but not included.

Specifically designed to fit the Corvair engines.

Replacement parts widely available.

Comes complete with red distributor cap, rotor

and new drive gear.

High energy electronics, using a magnetic trigger, 

self-contained inside the distributor.

Plug and play, no external box to mount, 

just hook up three wires.

Unit requires 12 volts at coil terminal.
Must use 3.0 ohm 12 volt coil.
Adjustable mechanical advance, 

both rate and limit, included.

Uses aftermarket accessories

for GM distributors.

Must use 12-volt

high-output aftermarket coils 

(not stock coil).

HEI ignition wire set is recommended.

Cautions:

Currently no pressure retard unit is available.

A turbocharged engine will require 

external boost control of timing.

Clears high-mounted air conditioning compressors.

May not clear smog pumps (A.I.R.).
NOTE: only 1965 140 engines
will require using 1966-69 secondary swivel bracket,
down link and throttle shaft lever on passenger side
secondary carburetor (see photo) to clear the cap.
These parts are sold separately.
Check our USED CARB PARTS section. 
Data sheet
Model

1965
1966-69

Condition

NEW